Using propane in your Phoenix Metropolitan home or business provides you with a versatile and affordable option for creating heat and hot water. Propane is a versatile and very efficient method of creating heat thus lowering energy costs. Propane Servcies installs and delivers propane to homes throughout the Phoenix Metropolitan area.
Should you pull the plug on your electric hot water heater?
Propane Heating
Using propane to heat your Phoenix Metropolitan home or business provides a very warm and comfortable environment. Homes that are not serviced with natural gas can easily take advantage of the benefits of propane. Propane can be used for a wide variety of home and business heating devices including:
Furnaces
Radiant Floor Heating
Hearth Stoves
Space Heaters
The installation of the propane gas lines can easily be handled by the experts at Propane Services. To learn more about our services, please visit
Propane Gas Line Installation
.
Propane Hot Water
Propane heated hot water heaters offer customers with an efficient and cost effective way to heat water for their home or business. Very few electric water heaters qualify for the federal Energy Star, where many propane hot water heaters, especially tankless, do qualify. It is estimated that 20% to 30% of the typical home's monthly energy expense go to heating water. The installation of a propane powered tankless water heater has the ability to reduce this part of the energy costs by up to 60%. Also, a tankless water heater eliminates "standby losses" by only heating the water on demand. And, by not using a storage tank, tankless water heaters provide an endless supply of hot water, averaging about 222 gallons/hour. This results in substantial savings on your monthly energy bill.
Your representative from Propane Services will be glad to discuss the benefits of propane heating and hot water solutions for your Phoenix metropolitan home or business.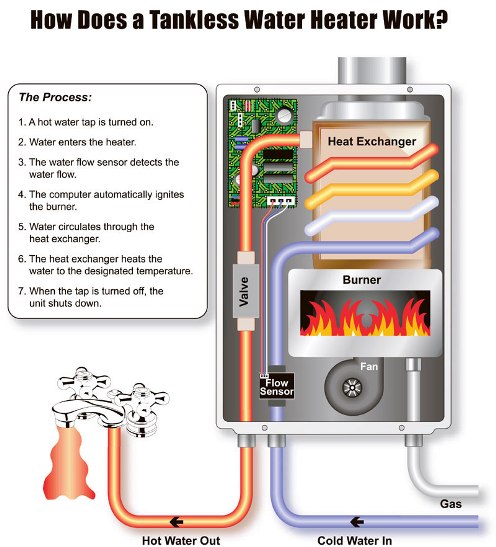 For more information regarding hot water standards and how to save money click
here
For more information on tankless hot water heaters click here
Compare propane hot water heaters to electric hot water heaters click here
Propane Fire Feature Safety
Propane is one of the safest and most reliable ways to provide heat and hot water for your home or business. Learn more at
Propane Safety
.
To get answers to many of the common propane heating and hot water services that we offer, please visit our
Frequently Asked Questions
.